Dover President and CEO, Robert Livingston, Serves as Panelist on 'China's Changing Landscape
The Chicago Council on Global Affairs — an independent, nonpartisan think tank — recently hosted the panel discussion "Unmade in China" as part of its China's Changing Landscape series. Panelists included Jeremy Haft, adjunct professor at Georgetown University and CEO of Safesource Trading; and Robert Livingston, president and CEO of Dover Corporation.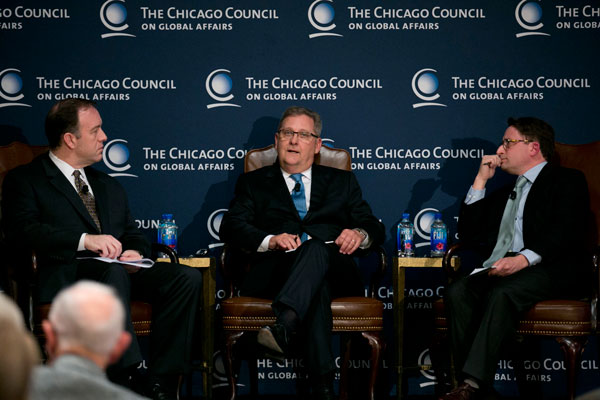 Moderator Phil Levy leads a discussion with panelists Robert Livingston and Jeremy Haft on China's changing economic landscape (Photo courtesy of The Chicago Council on Global Affairs)
Moderated by Chicago Council's Senior Fellow on Global Economy Phil Levy, the panelists discussed the historic growth of the Chinese economy and its subsequent stagnation as Western manufacturers in China are facing tougher environmental regulations, increased costs, and restrictions from the Chinese government.
During the panel, Haft and Livingston also shared their views on what it will take for foreign investment to reenergize the Chinese economy and what additional pitfalls could derail success for foreign companies working within China.
Dover Corporation is a proud supporter of The Chicago Council on Global Affairs and serves as the Council's sponsor of the series China's Changing Landscape.